"4S Stay AwaIkeda Honmachi Street" will open!
4S STAY Awaikeda Ekimae
4S STAY Awaikeda Honmachi St.
"4S Stay AwaIkeda Honmachi Street" will open!
We are pleased to announce the opening date and other details of "4S Stay AwaIkeda Honmachi Street" in Miyoshi City, Tokushima Prefecture, which has been preparing to open.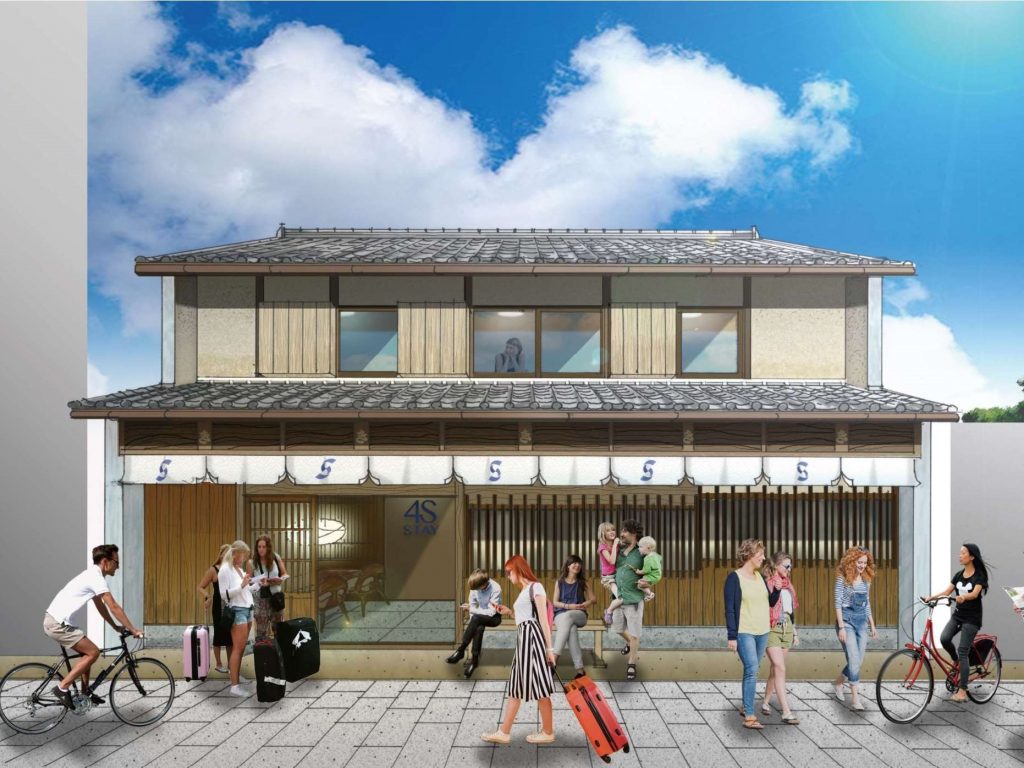 1. Location
  2467-1, Machi 2467, Ikeda-cho, Miyoshi-shi, Tokushima, Japan (about 10 minutes on foot from Awa-Ikeda Station)
2 Opening Date.
  Friday, April 24, 2020
3 Details of facilities, etc.
 (1) Building description: Two-story wooden structure, total floor area: 172.27m2
 (2) Number of rooms / capacity: 2 rooms, 7 persons each
   We divided one two-story building into two rooms through an alley in the center of the building. Rooms are available in the street side room "Machi" for the udatsu cityscape and the courtyard room "Niwa" for the light garden. Each room is a maisonette type with access to the upper and lower floors.
 (3) Features of the facility
 Each room has its own entrance, earthen floor living room, bathroom and toilet.
 A custom-made Shigaraki-yaki bathtub is used in the bathroom.
 A welcome basket (muffins, fruit, drinks, etc.) will be provided.
 The bed is made by Simmons, which is particular about a comfortable sleep.
 The futon is made of recycled feathers (green down) from the viewpoint of resource recycling.
 In-room facilities include free Wi-Fi, wired broadcast, IH plate, minibar, refrigerator, etc.
 There is a common inner garden where you can feel the four seasons.
4. How to make a reservation
 You can make a reservation from the 4S STAY official website.
 The hotel reservation site (OTA) will be available as soon as it is ready to open.
5. Sales of the opening anniversary accommodation plan
  In order to give many customers a taste of 4S Stay Awa Ikeda Hommachi-dori, we are offering a special discounted opening commemorative plan available only on our official website.
 Period of stay: Friday, April 24, 2020 – Tuesday, June 30, 2020
 Accommodation fee (excluding tax)
  13,000 yen per room for two persons, 17,500 yen per room for three persons, 21,500 yen per room for four persons
  25,000 yen per room for five persons, 28,250 yen per room for six persons, 31,250 yen per room for seven persons
  Except for the period from May 2 (Sat) to 5 (Tue).